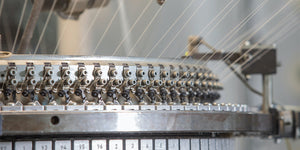 We are proud to say that all our products are 100% made in Europe.
And by that we really mean 100% made in Europe.
Some businesses have the component parts of their products made elsewhere and then assemble them in Europe, which is enough for them to be able to use a 'Made in Europe' label. But we will never play that game.
ALL of the different component suppliers that provide items for our factory are based in Europe.
In fact, most of them are based in Portugal.
The Portugal Connection
The jerseys are dyed and go through different finishing processes in a nearby dye house before being sent to the small family factory to be cut and made into boxers or T-shirts.
Our socks are also entirely made in Portugal.
Our organic cotton fabrics are knitted in a factory in Portugal. The jerseys are dyed and go through various finishing processes in a dyeing house nearby before being sent to the small family-run factory that will cut and turn them into boxers or T-shirts.
Our socks, however, are made entirely in Portugal.
Our organic cotton fabrics are knitted in a factory in Portugal.
All these suppliers are located in the Braga region of northern Portugal. None of them are more than 30km away from any of the others.
Moving East
We did, however, have to move further afield to find the perfect factory to produce the elastic waistband of our Classic and Nautical underwear collections.
That's made in a factory in Austria simply because we couldn't find the quality that we were looking for in Portugal.
Likewise, for our composition and care labels, we only wanted the best quality because all of our labels are made from 100% cotton. The only factory that could make the perfect jacquard labels in that composition without using any polyester, was based in Italy.
So that's who we went with.
For our swim shorts and sports underwear collection, the supply chain is a little different, but still very European.
We use recycled marine plastic waste as raw material. After we retrieve it from the ocean, the recycling plant in northern Spain turns it into Seaqual polyester yarn.
To Turkey and beyond
The only thing that doesn't come from Portugal, or from Europe at all, is the organic cotton itself. That's because cotton doesn't grow in Europe. It needs a warmer climate.
So we source it mostly from Turkey, and sometimes from India.
We can, however, guarantee the organic origin of the cotton thanks to the GOTS (Global Organic Textile Standard) certification, which traces it at every stage, from cultivation to sale. The supply chain for our swim short and sport underwear collection is slightly different – but still very much European. In this case, the raw material is recycled marine plastic waste. That's collected from the ocean and then transformed into a polyester yarn in a recycling factory located in the north of Spain.
And back in Portugal...
The yarn is then sent to our two different fabric manufacturers in Portugal. One of them weaves the yarn into a recycled polyester woven fabric used to make our swim shorts. The other combines the recycled polyester yarn with an organic cotton one and knits them both together to create the jerseys used to make our sport underwear. All of our packaging is also made in Portugal. That includes our recycled cardboard, tissue paper, and the hangtags (made from recycled paper) attached to the products.
And finally, our warehouse is located in Portugal, which means that the products don't even have to travel far once they leave the factories.
In fact, the longest distance the product will ever travel is from our warehouse to your address.
Then again, you could always move to Portugal and pick up your order direct. We'd be happy to see you and we'll even offer you a cup of coffee.