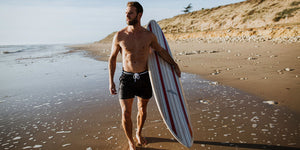 We love the sea.
It excites us. It inspires us. And, of course, it sustains us.
Because without water, without the seas and the oceans, we simply wouldn't be here at all. Life on earth depends on the life in the sea.
We love the sea because we love the outdoors. The oceans bring us adventure, maybe a little danger as well. They also bring us sports. Sailing, swimming, diving and so many more.
And then, now and again, we take a break and just sit on a favourite beach looking out at all that beauty.
Sometimes calm and placid, sometimes wild and untamed; the sea is an ever-changing earthly delight.
It's certainly inspired us over the years.
We've created two collections based on the sea.
There's our nautical underwear collectionmarine underwear, made from organic cotton and inspired by Breton-striped tops.
And not forgetting our swimwear collection swim shorts, made from 100% recycled marine plastic, as part of our work with the fantastic SEAQUAL INITIATIVE.
We hope you'll dive in and see for yourself.